Help please... 1993-960
05-23-2012, 10:17 AM
Join Date: May 2012
Posts: 4
Help please... 1993-960
---
A friend of mine asked me to do his head gasket on his 960. Im in the reassemble stage and i found this little white plastic "spacer"??? Anyone know what it is? I cant remember where the heck it came from. Its a little bigger than a quarter and theres a slot halfway through it. But in the mean time, any ideas? (theres only one) maybe from the back of one of the cams???
05-23-2012, 01:03 PM
---
It's the timing belt tensioner pin guide.
Timing belt replacement instructions on a 1997 Volvo 960
Goes on top of this. This one is bad, it leaked so I had to replace it.
Pic of it installed: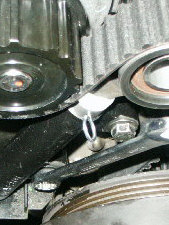 Thread
Thread Starter
Forum
Replies
Last Post