P0015 and Cam Seals
02-27-2019, 03:44 PM
Join Date: May 2018
Location: Woodbridge, VA
Posts: 44
P0015 and Cam Seals
---
I have a 2004 S40 1.9T and I've had a P0015 code for a few months now, but shortly after, I discovered I was leaking oil towards the back left side of the engine and there was some oil on the timing belt. My mechanic told me the code is probably from the CVVT solenoid actuator (part number 9202388), and the oil leak could be that as well, but also cam seals, valve cover, etc. He recommended me to get my timing belt done and would replace the CVVT solenoid with it. He said I could still drive in the meantime, so my dad told me to wait until February for the repairs because it would cost about 575.25 for the timing belt, tensioner, idler, CVVT solenoid, and water pump (cuz why not on a 185000+ mile 2000s European car that sat for a while judging by the dirty engine bay and brownish coolant), so he would save up for it until then. So I drove it until now.
On the 25th, I took my car to a Volvo dealership to get a VIDA scan done on it and also got a multi-point inspection to see anything else that is broken. Here's pics of the papers:
Album
The service advisor told me that they found the 2 ECM codes 61 and 44 that point to the "camshaft reset valve" and that I have to replace the sensor. He wouldn't give me any part numbers and said that's how they do it. Anyway, I can't find any camshaft reset valve online for my car. Here's a thread where people say that's not a real thing and is the camshaft position sensor(part number 9202117) actually, others say it's the solenoid (part number 9202388):
https://forums.swedespeed.com/showth...ft-Reset-Valve
According to the dealer, this part looks like it's already been replaced and isn't the problem. I don't know exactly what part is what because of all this mixing and overlapping language.
For the oil leak, they said that both cam seals and the CVVT hub are leaking oil a lot. He said that the more I drive, the more heat goes to those parts and the more will leak over time. I've been keeping track of my oil use since I found the leaks a while ago and I think I've only had to fill up a quart every 5000 miles which is my oil change interval that I've set with Mobil 1 high mileage full synthetic 10W-30. I asked him what it involves to replace the cam seals and CVVT hub. I asked, "Is it involving the removal of the valve cover and the head?" He said yes. I asked this to my mechanic and he said no. I don't know what's true now. I feel like the service advisor at the dealer was BSing me with half the things he said. I prefer to talk to the technician directly if possible, but that's how it is I guess.
Another thing they said is that my steering rack boot on the left side is leaking and I'll need to replace my steering rack as well. I asked him why that is and how does that make sense. He said the boot is leaking, but if I don't replace it, the rack will leak too. I highly doubt that the rack is leaking because I only topped up power steering fluid once at my mechanic's shop and the level still seems good. Is it just the inner tie rod boot (part number 3345796)?
I had a quick word with my mechanic today and he told me that they're just trying to rip me off and make me pay for the repairs. He said the boot can't leak, it just protects the inner tie rod and that the rack would be leaking, not the boot. He also said that my car doesn't have 2 cam seals, so both of them can't be leaking. I don't know about that part lol, I have 2 camshafts in my car don't I? I'll have him look over all this stuff next week when he's not busy and get his opinion on it. But until then, I'm gonna ask you guys.
I haven't been able to get a straight answer from the dealer and have to wait a week for my mechanic, so I don't know what to do. All this time I thought I just needed a new timing belt and CVVT solenoid to fix the leak, but now, I'm so frustrated. The dealer quote was unsurprisingly high, so much that it's not economically worth it to fix this car like that, but my mechanic said of course it wouldn't be, because it's the dealer quote. I'll have it look it over and get his quote and see what to do from there. I don't want to throw parts at it, so I went to the dealer to get a targeted look at it using VIDA, but if these repairs are really that expensive, then I might just have to take sell the car and buy a Toyota or something. The service advisor also told me that I should get Purple Power or some degreaser and spray it on the back of the engine where the oil is leaking down and hose it down with a pressure washer with the engine running. After I get it clean, I should just sell it and move on. Now I want to see if anyone has any experience with these issue and codes with my car on the internet and get your opinions.
Thanks.
---
Last edited by abdullahcfix; 02-27-2019 at

03:45 PM

. Reason: forgot sentence
02-28-2019, 12:37 PM
Join Date: Oct 2010
Posts: 5,021
---
Camshaft reset valve is just another term for the CVVT solenoid. They are the same part.

For CVVT codes, step one is making sure you have full, clean oil. Low oil can cause CVVT codes. The next step the the reset valve because its cheap compared to the last step, the CVVT hub.

If you have leaking cam seals, I would recommend replacement of the CVVT hub at the same time since there is no extra labor and they are a common failure on that car.

The cam cover and head do not need to be removed. Service advisors often don't know what they are talking about. If you ask to speak to the tech, it should be no problem. Unless you've already made it known you are going to have it repaired elsewhere.

As for the steering leak, there should be no fluid in the boot. If there is fluid in the boot, the rack is leaking and would need to be replaced.
03-06-2019, 01:21 PM
---
My 2001 had 4 cam seals total. The front intake cam has a normal seal behind the timing belt gear and the other end is a large plug type seal the fits between the head and the cam cover. The rear exhaust cam has 2 regular seals, one behind the CVVT gear and one under the cam position sensor cover. A leaking cam seal will leak oil down the front of the engine, annoying but not destructive. A leaking CVVT gear will put hot oil on your timing belt. This is bad. When mine starting leaking heavily the timing belt skipped several teeth and bent all 8 exhaust valves. Personally I wouldn't drive the vehicle until the CVVT gear is replaced.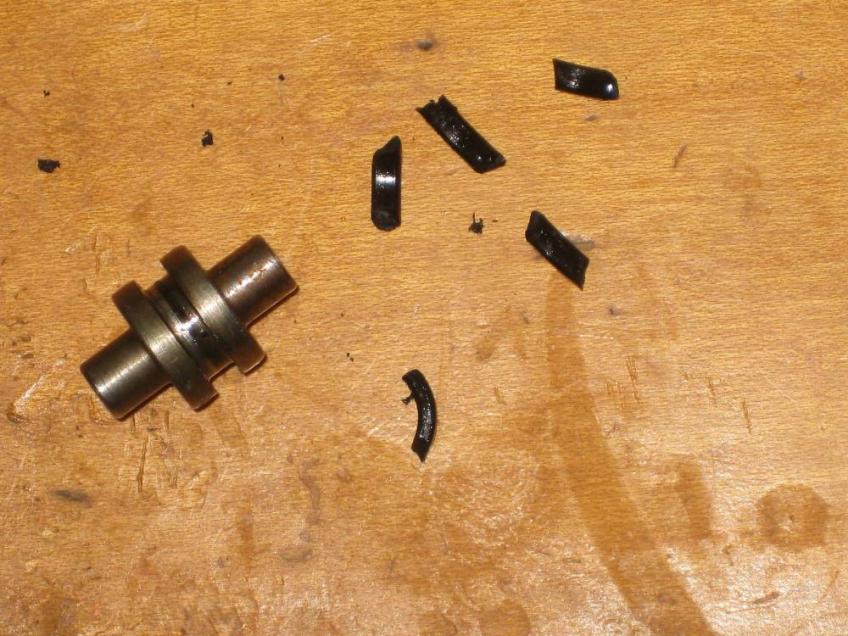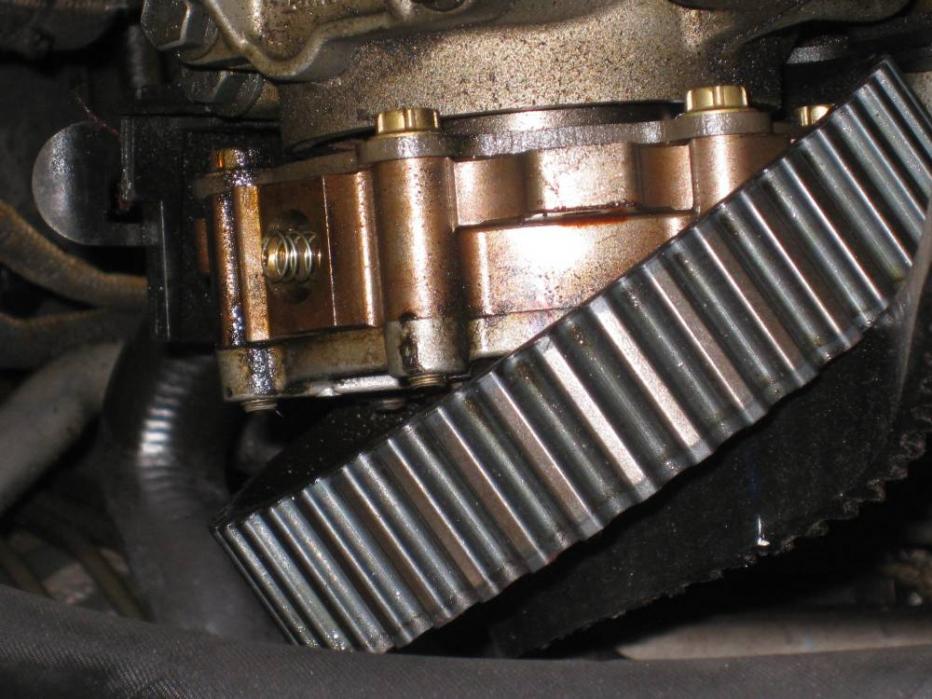 The CVVT gear has a little plunger thingy with an o-ring. When this o-ring starts leaking it slings oil all over your timing belt. It is possible to fix the o-ring leak without removing the CVVT gear.
Normally people replace the CVVT solenoid first, as mentioned above, because it's fairly cheap and easy to reach. If that doesn't fix your P0015 then replace the CVVT gear itself. This takes a cam holder tool because the CVVT gear can be mounted incorrectly without it and you have to put 80 lb/ft torque on the single bolt holding it to the exhaust cam. You do not want the cams to move at all. I made that mistake once already.
03-06-2019, 01:26 PM
---
---
Last edited by Hudini; 03-06-2019 at

01:29 PM

.
03-06-2019, 01:31 PM
Join Date: May 2018
Location: Woodbridge, VA
Posts: 44
---
Thanks for the replies, but at this point, I'm just gonna clean the car up and sell it for a Honda or Toyota. Even if this fix is relatively easy/cheap, there are and will be more things to do down the road as this 186k+ mile car will need as time goes on. I just can't afford it right now and have to get something that will last without needing things replaced all the time. I hope to come back to the Volvos sometime in the future when I have money and time for it, but for now, I'm just gonna sell it. I was gonna go through with the VVT solenoid and cam seals, but then I checked my oil level yesterday, and found some white in it. Now, I'm not sure if that's a sign of a head gasket leak for my car, but even if it isn't, it will be one day, so I'm just gonna do an oil change, coolant flush, vacuum interior, clear codes, and take it to CarMax to see what they offer me for it and get a Honda.
03-06-2019, 01:40 PM
Join Date: May 2018
Location: Woodbridge, VA
Posts: 44
---
Yeah, especially as a first car. It really gives me no mercy, but it's so fun to drive when it is working. Of the cars I've driven before this one, I really love almost everything about it except that it's only a 4-cylinder. The premium music amp, heated seats and side mirrors, auto climate controls, comfortable seats, good steering feel, and so much more. It's a shame they don't last longer.
03-06-2019, 07:35 PM
Join Date: Mar 2012
Location: Ridgefield, CT
Posts: 4,591
---
My sense of the problem is you don't know the maintenance history of the car. My son's 2000 S40 has been in the car since new, was dealer serviced for the first half of its life and after that I followed the factory schedule and my biggest repairs over the past 10 years - knock on wood - have been things like a new vacuum pump, replacing the coils and wire harness, replacing the fuel pressure regulator, replacing the CEM, replacing the ABS valve body and coil springs. Hardly a lemon...

Re the VVT: VVT gears are susceptible to oil sludge and tarnish so if the car didn't its oil changed regularly (and synthetic help) they do tend to fail. If you replace the gear and do the cam seals (and timing belt) you'd be good for another 100K miles for under $1000. a leaking steering rack is a bummer but that can happen on any car - including a Honda or a Toyota my guess is that may cost another $1000 in parts and labor. Mostly the fact is you are driving a 15 year old car which is really quite a good haul. If you buy a 2003 Toyota to replace it, you will still need to make repairs so if you really need minimum maintenance then you will want to go with a much newer model for thousands more than what your S40 would need in repairs. Its totally understandable that if you don't do your own repairs or understand the nature of the recommended repair then you are probably better off with a newer model with lower miles. The best thing I can say about Toyota (I also own a Highlander) is that their dealer parts and labor rates are typically 10-20% lower than my Volvo dealer - but with that said, you can have costly repairs there too - I just dropped $4000 into the Highlander for a series of issues - new brake calipers, an oil leak repair, control arms etc (car has 190K miles so those things just wear out over time).
Thread
Thread Starter
Forum
Replies
Last Post