sputtering at hard acceleration
11-20-2007, 11:09 AM
RE: sputtering at hard acceleration
---
If you have replaced the coils, wires, and plugs and still have the problem then look closely at the coil connectors themsleves. On my '01 I noticed the 2 wires on each coil connector had backed out due to the plastic/rubber (whatever it is) that holds the wires was deteriorating. When you push the connector onto the coil, the wires were loose enough to not fully seat on the male pins of the coil. Over a few days the wires would vibrate loose enough to make an intermittant miss. The fix was to carefully push the wires all the way onto the male pins of the coil then place a dab of high temp RTV on the back of the connector so they cannot back out again.
11-26-2007, 11:13 AM
Join Date: Oct 2007
Posts: 5
RE: sputtering at hard acceleration
---
not sure if anyone mentioned this or not but my 2000 s40 had a similar problem, whenever i gave it gas to get up to speed on the highway the car would shake in the front. It ended up being abroken motor/engine mount.


05-22-2018, 04:40 PM
Join Date: May 2018
Posts: 3
---
[QUOTE=harstonsharley;21317]Engine sputtering/cutting out when I "romp on it", why? Secondly, where are the spark plugs and it is feasible for me (moderate motorcycle/american automotive mechanical knowledge) to change them. Is the sputering when I "gun it" coming from and dirty throttle body, bad turbo, plugs, injectors, etc...??? I am lost.
Also what are "Volvo" plugs, I just bought 4 Bosch coppers, is that OK?

THANK YOU VERY MUCH FOR ANY AND ALL HELP WITH THIS MATTER.

Did you ever figure out what the problem was?
05-22-2018, 08:53 PM
---
The 1.9L Volvo engine has the old "wasted spark" DIS similar to what was found on the old GM Iron Duke 2.5L engine from the 80's. You have 2 coil packs sitting on top of cylinders 1 & 2 spark plugs and then 2 plug wires off these coils running to cylinders 3 & 4. The problem is the plastic part under the coils or spark plug wires can develop hairline cracks allowing the spark to jump to the head instead of traveling down further to the spark plug. The test is to use high temp RTV to coat the cracked plastic part that fits down over the spark plugs to see if the miss disappears.
This being a turbo engine, you can get detonation with improper spark plugs, plug gaps, and poor grade fuel on a hot day. Iridium plugs are the best for turbo engines to prevent detonation. Platinum are ok but some engines just don't tolerate them well. Anything less and you are asking for trouble. The Volvo Iridiums from the dealer are super pricey. You can get as good or better Iridium plugs for way less money at the local parts store. NGK and Bosch sell good quality Iridium plugs. Make sure to gap them correctly.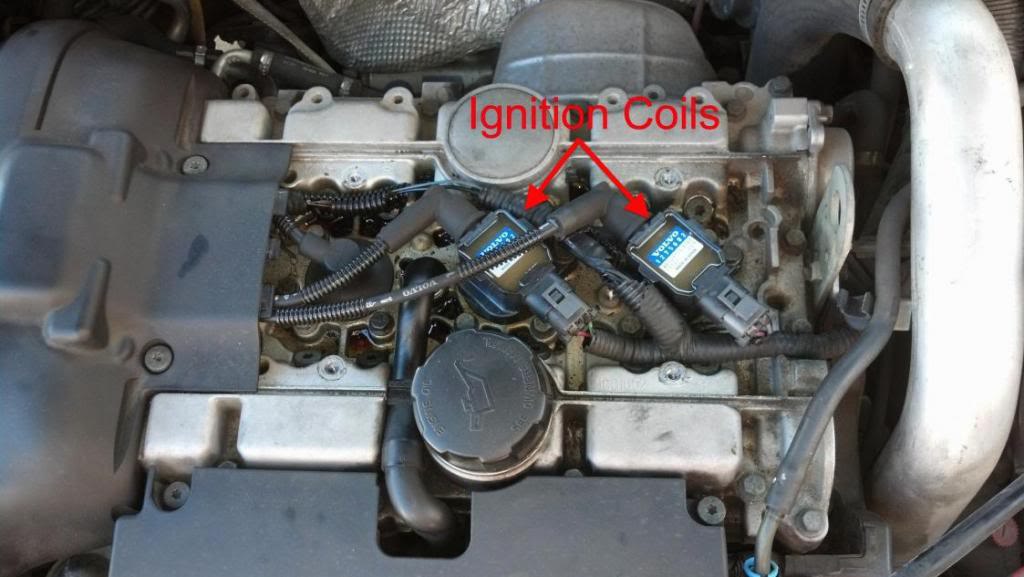 08-14-2018, 09:08 PM
Join Date: Aug 2018
Posts: 1
Let me get this straight
---
Are you saying it cost 30K in repairs ?
TECH is that right. I am looking at an XC90 for sale and It sputters in the same way. I don't know if it is worth it to buy the car and and repair that. I was told it is an air leaking.
Originally Posted by
gordon368
Heh, Tech knows his material!
By the way tech, I just got my car back after its BIG 30k service tune up at 58.5k mileage, AND IT RUNS SOO SMOOTH AND SOOO SOFT and it has its turbo bite back. They told me everything looked perfect. So I'm happy, and not worried about my turbo's(remember when they were making the noise?) It runs like brand new(knock on wood)!
12-20-2018, 08:45 PM
Join Date: Dec 2018
Posts: 1
Most of these people have no idea what they are talking about
---
If your car is cutting out when accelerating hard it's the vacuum lines. Most of the time it's the one that connects to the turbo passes by the engine block and connects to the manifold or around the throttle body. Having a leaking line causes the ecu to give too much o2 or not enough causing the engine to run like **** or stall. It's not your plugs or distributor if the car runs. Check all of your vacuum lines before messing with anything else. Engine gets hot weakens the lines.

12-25-2018, 04:31 AM
Join Date: May 2018
Location: Woodbridge, VA
Posts: 44
---
Are you saying it cost 30K in repairs ?
That post is from 2006, when his car would'v been less than 5 years old, assuming the oldest one would be a 2001. He meant the 30k mile maintenance schedule.
Thread
Thread Starter
Forum
Replies
Last Post